Peregrine Falcon Cam - Anglesea, Victoria, Australia

From the 2009 Season:


Monday December 21, 2009
Due to popular demand we are keeping the webcam live a little longer this year so that you can enjoy the brief glimpses of Froona, Barega and Warrun when they return to the nest box, whether it's for a rest or a meal.

Monday November 9, 2009
We are proud to announce Alcoa Anglesea's three chicks for 2009: Froona, Barega and Warrun.

Thank you to everyone who emailed us with their expert opinions. The general consensus was that we have one female and two male chicks, with the brothers exhibiting more developed juvenile plumage compared to their big fluffy sister.

It is an honour that our female chick is named Froona. We had an overwhelming response from members of Bird Cams Around the World to recognise Froona Veldhuis from the Netherlands, a devoted advocate for the Peregrine Falcon, who died unexpectedly in April this year.

Our two boys have been named Barega and Warrun. Both names are from the Aboriginal language meaning 'the wind' and 'the sky' respectively. It is fitting that these two brothers, indistinguishable from each other without bands, have names from similar origins. Thank you to Linda (USA) and Ingrid (Netherlands) who suggested these names for our two boys.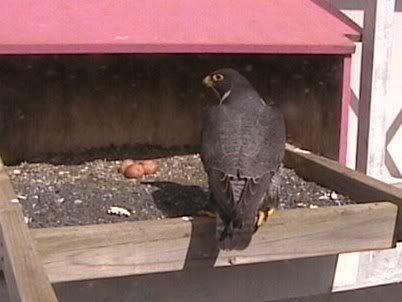 The cam refreshes every minute.