Eagles increase but other bird counts on the decline
Wednesday, May 15 2013 @ 12:42 PM EDT
Contributed by: MaryF
By Neil A. Case
Monday, May 13, 2013 12:00 am
Updated: 6:57 am, Mon May 13, 2013.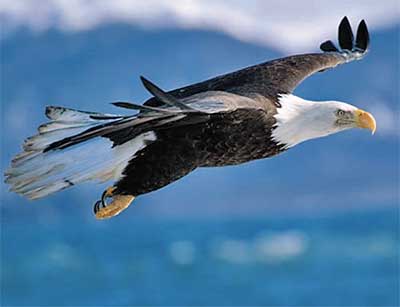 Over the past three decades, bald eagles have increased in number across
the United States, and it is no longer an endangered species. Many factors
have contributed to that bit of good news.
"I think I saw a bald eagle. Is that possible?"
An adult bald eagle is unmistakable, but 30 years ago, when I was asked that question, eagles were rare in Indiana and in most other states. The bald eagle was an endangered species. So when someone saw an eagle and told me about it, it was as if they wanted me to confirm it for them. Or speaking defensively or even belligerently they'd tell me, "I saw a bald eagle," obviously expecting me to tell them they couldn't have, that they must have been mistaken.
Read the rest of the story HERE