Sea turtle eggs being moved to Atlantic
Tuesday, June 29 2010 @ 01:31 AM EDT
Contributed by: jkr
June 28, 2010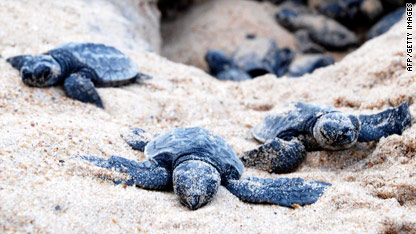 A sea turtle egg relocation project has been started in hopes of keeping hatchlings out of the oil that's spreading through Gulf of Mexico.
Henry Cabbage of the Florida Fish and Wildlife Conservation Commission said they have started digging up sea turtle eggs in nests in Florida's Panhandle.
The eggs are being moved to a secure facility in Cape Canaveral, Florida, where the turtles will be released in the Atlantic Ocean once they're hatched.
More: news.blogs.cnn.com/2010/06/28/sea-turtle-eggs-being-moved-to-atlantic/